The Story of Stencil Stop
Since we started Stencil Stop 3 years ago, I have strived for transparency for our employees and customers.
If you work for me, I try my best to always give my honest thoughts and opinions. Customers often ask for my background and our company's story; so I thought I'd share it with you here.
Hopefully, this detailed history of Stencil Stop answers any questions you might have about us—and hopefully even inspire you to chase your own dreams. If not, shoot me an email and I'll get back to you as quickly as I can.
An abbreviated background on the first 22 years of my life: I grew up in Elk Grove, California, about 10 miles from Sacramento.
My mom is an art teacher and my dad is a financial advisor and avid sports fan. The combination of these backgrounds and how they have been instilled in me will become clear soon. In 2008, I started a my first business painting address numbers on curbs in my neighborhood for $10 a pop.
I attended Clemson University from 2010 - 2014 and majored in Packaging Science. (Yes, Packaging Science. It's a real thing.)
In my last few semesters at Clemson, I became super focused on school, business, and someday working for myself. I cycled through idea after idea, bounced them off my friends, and worked up rudimentary models.
I started a small (really small) t-shirt brand that I worked on most of my last year. It taught me the basics: how to set up a website, costs, time allocation and priorities, selling your product door to door, and the licensing that was required to work with fraternities, sororities, and athletic programs that are affiliated with universities.
The day I moved out of Clemson, one of the shops in town that had been selling my shirts on consignment gave me a check for $750. That was a good feeling.
Some of the t-shirts I made in 2014
Upon graduation in December of 2014, I landed a job at an International Paper plant in Lynchburg, Virginia as a packaging designer. I knew that moving to an unfamiliar town where I knew no one would be hard, so I became more focused than ever.
For the first few months, I filled my time in every way that I could. I read a bunch of books and studied for the GMAT exam for at least an hour a day. I wanted to be the youngest General Manager in International Paper history.
I went to work early and stayed late, using the CAD table in my office, meant for prototyping box designs, to create and design new products.
I look so happy to be at work.
A few months into the job, in the middle of a job training trip, I realized that this career path was not the one I was meant to traverse. The chances were incredibly slim that the career I had chosen would make me a happy person.
I started churning out ideas even faster, cycling through business plans, products, and inventions. I read the book 4 Hour Work Week, which taught me how to test and how to quickly validate and automate business plans. I tried to make new things and test new ideas every day.
Among the ideas I tried: a beer sock (carrying beer wasn't easy enough, apparently), a Pablo Sanchez bobblehead (yeah, I seriously worked on this), a University of Virginia shirt with a colonial wig silhouette (the idea came from the Brian Wilson beard shirts from a few years back), and a package that measured the amount of liquid you needed to add to something like oatmeal or a powdered drink (I don't think you can patent putting a line on a package).
See also: dropshipping copper combs, manufacturing frozen dog food, reselling elevation training masks, fractional calculator for the packaging industry.
The grand total of copper combs I ever sold.
Around this time, Spring of 2015, Patrick and I spoke on the phone almost every night brainstorming plots and schemes and ideas.
Like me, he was pretty unhappy with his job situation and wanted something that could help him work towards a change in the future. One night, I showed him a few of the things I had been creating on the CAD table at work.
"Those are cool, but what about Clemson stencils?"
I thought that surely this was such an obvious thing, something so clearly needed by people that it was sure to exist in stores, online, somewhere. But after some quick research, standing there on the phone with Pat in my room in Lynchburg, I realized that no one online was selling stencils with the Clemson University paw logo.
In the next few days, I set up a very rudimentary website with photos and product listings. And when I say very rudimentary, I mean this thing was super ghetto. I didn't technically have a license to manufacture the Clemson logo yet because in true 4 Hour Work Week form, I was simply testing the idea. I couldn't have predicted what happened next.
Someone bought a stencil.
Someone bought a mf'ing stencil! What?!?! How was this even possible? I couldn't even find MY OWN WEBSITE on Google yet!
Original cardboard stencils, photographed on my "rustic" apartment floor.
This validated the idea. We figured out the licensing situation, invested our money in the startup costs, and got to work. I went around to shops in South Carolina and sold our new product buyers in Clemson Tigers and South Carolina Gamecocks retail stores. Over the next few years, we saved and invested 100% of our revenue, I got a job in Sacramento and moved back, and we invested in a new machine to make stencils faster and more precisely.
Today, we're making stencils in a retired airport hangar in Elk Grove, back where it all started for me. Thanks to Sean, our fulfillment operation is steadily improving. We're getting ready to brave another winter in the hangar. Soon, our growth will allow us to move into a better (climate-controlled) manufacturing environment so we can continue to make awesome products for our awesome customers.
I am enormously grateful for all the moments and people in my life that have led me here. Without my mom, I wouldn't have been exposed to starting a business or using stencils.
Without my dad, I wouldn't have been exposed to a college that is well-known for its athletic program, leading me to study a subject that taught me the skills I needed to create this very website and the products it contains.
Each day, I try to make my friends, family, and customers proud that they've come in contact with me or something that I've helped create. We still have a long way to go. I'm excited for whatever comes next.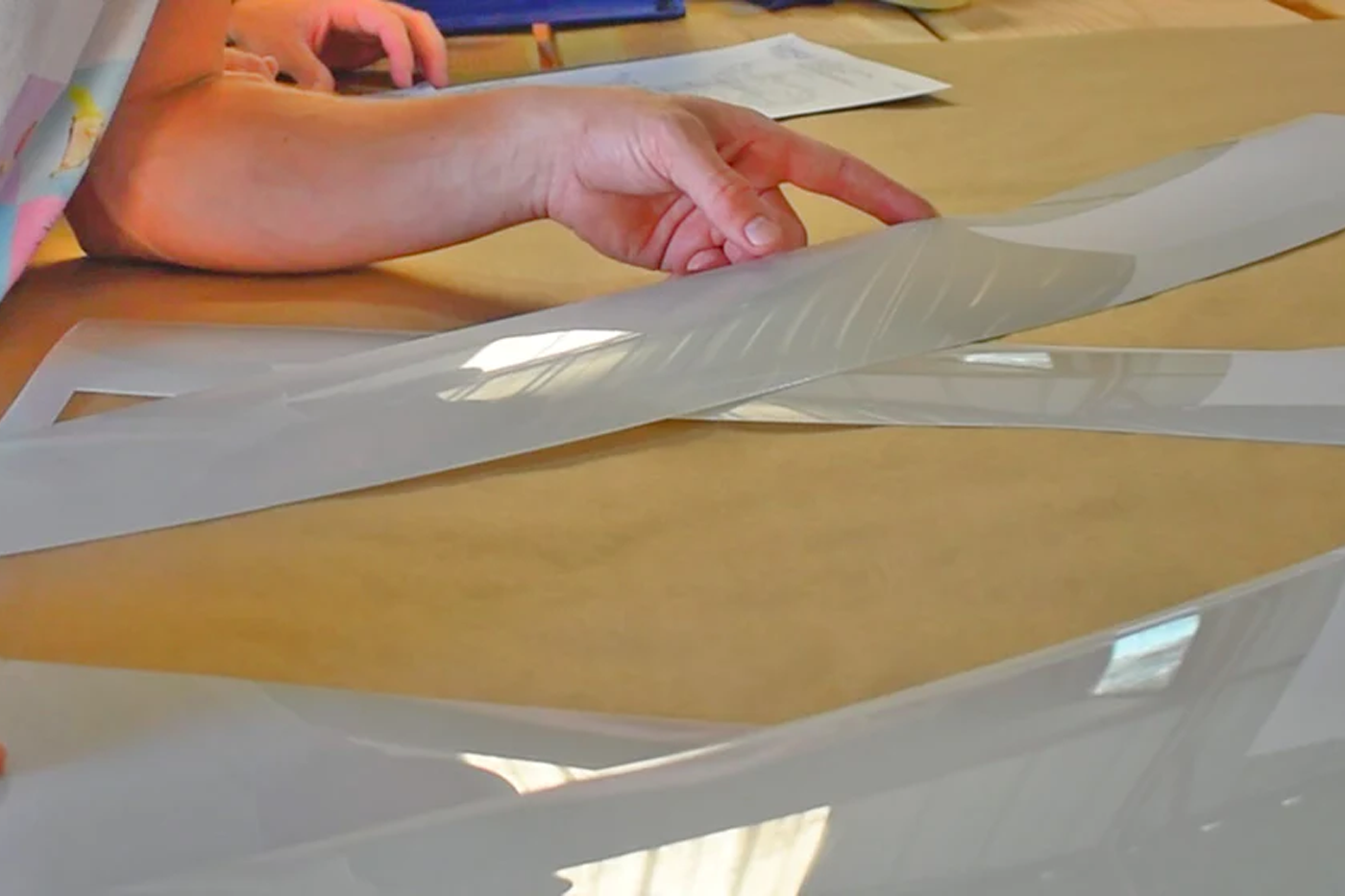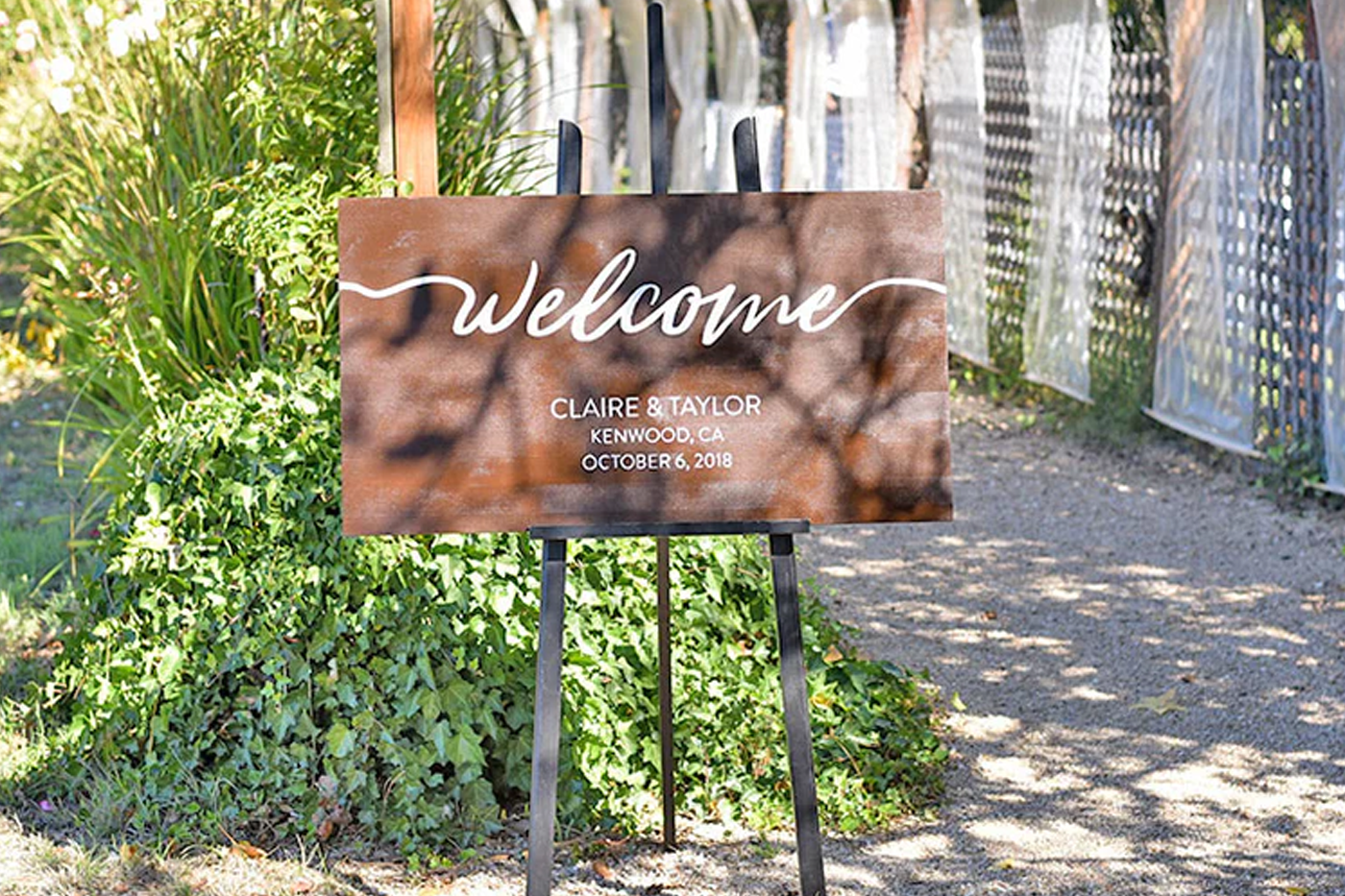 How to Make a DIY Wedding Welcome Sign
My friend Taylor got married a few weekends ago. Naturally, being the kind stencil-company-running gentleman I am, I asked what I could do to help make his wedding more beautiful, awesome, and may...
Read more