How to Use a Stencil to Burn Letters on Wood (Step-By-Step)
For this project, I use a stencil to burn lettering onto a blank piece of wood.
Next, I fired up the Dremel.
I used a Dremel 2000-01 Versa Tip Precision Butane Soldering Torch with the cutting knife attachment to trace right over the lines I traced.
The Directions:
Get a stencil with the desired logo, design, words, image, etc.
Choose the medium onto which you want to transfer the stencil's design. Most types of wood should work for this.
Make sure you have a sturdy, clean surface on which to do your project.
Use a pencil to outline the inside of the stencil's design. Some parts of the stencil will move (like the University of Kentucky one below did on the smaller areas) so you may have to hold down certain parts with your finger. Don't worry about being perfect because the next steps will eliminate and hide any arrant pencil marks.
Use a wood burning tip to trace over the penciled lines. If your tool comes with a sharp knife tip or something similar, use it. Burn and fill other areas as desired. For spaces with more surface area, we recommend using a tool with an open flame for more efficient burning. Burn around the edges of the wood if desired.
Paint where desired. If you want the most rustic, wood-burned look, make sure to paint very lightly to keep the wood-burned areas accentuated.
Coat the surface with a gloss finish to keep it protected.
In the future, I'll probably cop a tool that is actually for wood burning... I think this one is supposed to be used for soldering wires and such.
I figured this out when after a few minutes of putting pressure on the cutting knife, it became totally warped and disfigured. Still got the job done though.
Then I filled in the outline part of the logo with more action from the cutting knife tool.
I subsequently removed the cutting knife tool and let the Dremel rip with the open flame to fill the bigger, blank parts of the logo. This is the ideal use for this particular Dremel because it gives you precision with the flame relative to using a blowtorch or larger flame.
It actually looks pretty sweet just like that! But I really wanted to add some light touches of color to the whole thing, so I got a brush and some paint and got busy. I used the University of Kentucky's official colors for reference on which paint colors to purchase.
I roasted the open flame around all the edges to give the wood even more of a rustic look.
Next up? The blue. I'll admit, I overdid it a little bit here. I wanted the color to be a super light dusting and mostly an accent, but I got carried away with the coverage.
It still looked good in the end, but maybe leaving it colorless or with one simple and less accentuated color would have been a better move.
It does look a little less "wood burned" this way, unless you look at it closely. Oh well, I'm steppin' my game up daily with these projects so I'm not trippin'! My skills will improve with time, and so will yours, keep trying any projects and ideas that come to mind.
Looking to turn your inspiration into reality? Start here.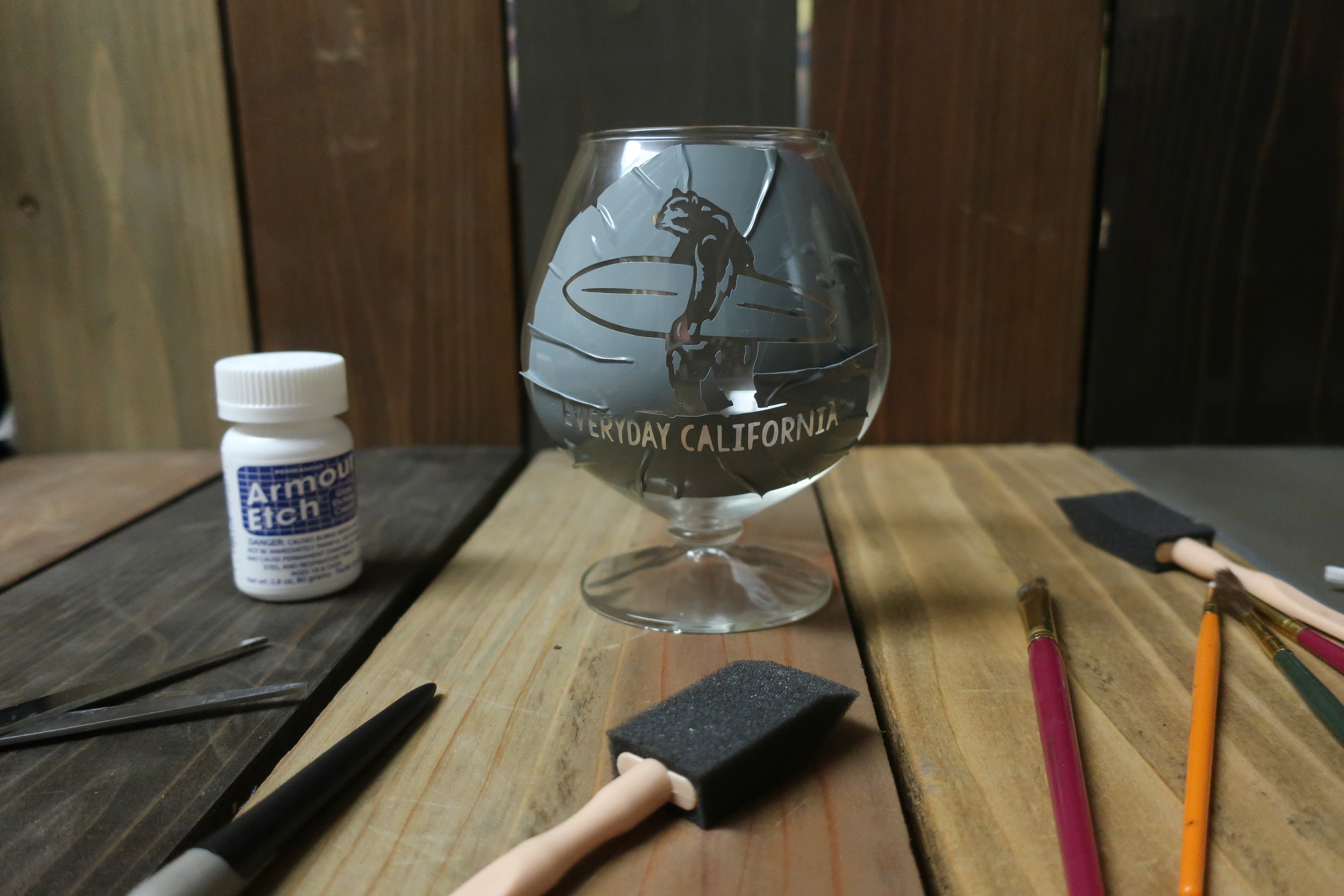 DIY custom etched glass is inexpensive and achievable by following our simple tutorial! This entire project only costs $10 and is super easy!
Read more